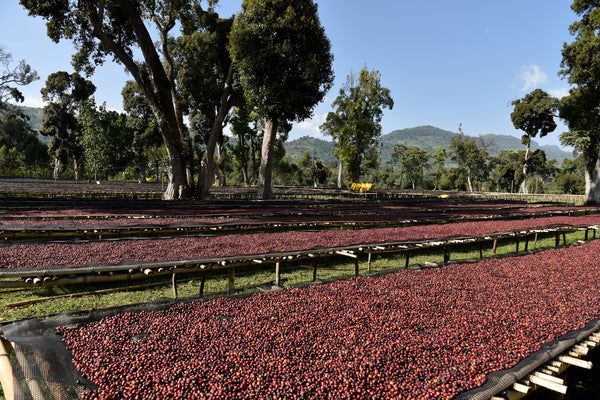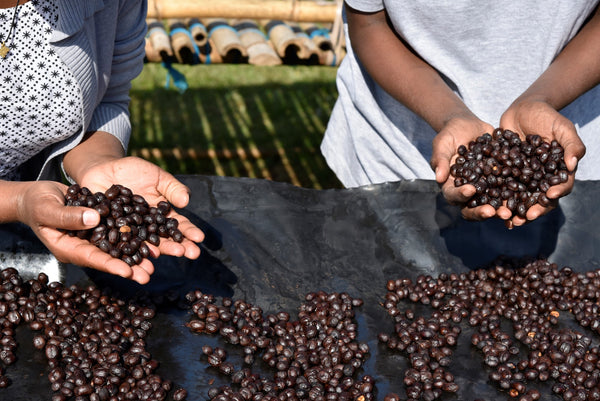 Stockholm Roast
Shantawene Fully Washed Ethiopia
Cup profile: Notes of Hazelnut, Ginger, Chocolate and Melon. A fairly floral profile with flavors of lavender
Farm 
– Shantawene Estate
Producer – Daye Bensa
Altitude – 1900 - 2300 m
Region – Bensa, Sidama, Ethiopia
Process – Fully Washed
Variety – Heirloom

Shantawene coffee, produced in the village of the same name by the company Daye Bensa, offers a nice sweetness, a distinctive sign of its belonging to the Sidama A appellation. It is within this renowned region that Daye Bensa has produced and collected since many years of high quality cherries, grown in a fertile environment, at an altitude of over 2000 m. This beautiful cup shows all the attention paid by Daye Bensa in the export of quality coffees, which showcase local know-how and the richness of the production environment.
The Shantawene farm is located in the Sidama appellation, in the Bensa district. This Sidama appellation is divided into four geographical areas (A, B, C, D), each offering a specific cup profile. The Sidama A appellation, to which the village of Shantawene that houses the Daye Bensa farm belongs, is distinguished by its lovely sweetness and notes of yellow fruit. Sidama A brings together a fairly large area which extends over the Guji and Sidama zones. The Guji zone is made up of the districts of Odo Shakisso, Uraga, Hambela, Kercha, Adola and Anassora; the Sidama zone includes the districts of Bensa, Chiré, Aroressa. All these sites are known to house reputable cafes.
Proud of its local roots, the company was inspired by the toponyms of the region to create its name. Daye is indeed the city located 10 km from the village of Shantawene; Bensa the name of the district. The farm managed by Daye Bensa is located at an altitude of around 2000 m, in a rich environment, whose shade and fertile soil ensure the production of quality coffee. Anxious to preserve this environment Daye Bensa coordinates a reforestation program, following the advice of the Ministry of Agriculture, to increase the tree cover of his coffee farm.
The Daye Bensa company was created by two brothers, Assefa Dukamo and Mulugeta Dukamo, about fifteen years ago. Determined to reveal the high potentials of coffees of their country, they have, over the years, developed a company which today holds an important place in the production, collection and export of coffee from Sidama. Daye Bensa currently manages two farms in this region, 19 washing stations in the producing region and 5 coffee preparation warehouses located in the city, notably in Addis Ababa. They work with more than 1,400 small producers from whom they select the most beautiful cherries. The company also organizes regular training for these producers to further improve the quality of these coffees. These solid establishments, at different stages of the industry, allow Daye Bensa to offer qualitative coffees on the international scene. They centralize their activities from their headquarters in Addis Ababa, which brings together 15 people with varied skills, quality, logistics, finance, export etc. As a sign of recognition for this applied work, two of their coffees were selected this year for the Cup of Excellence 2020.