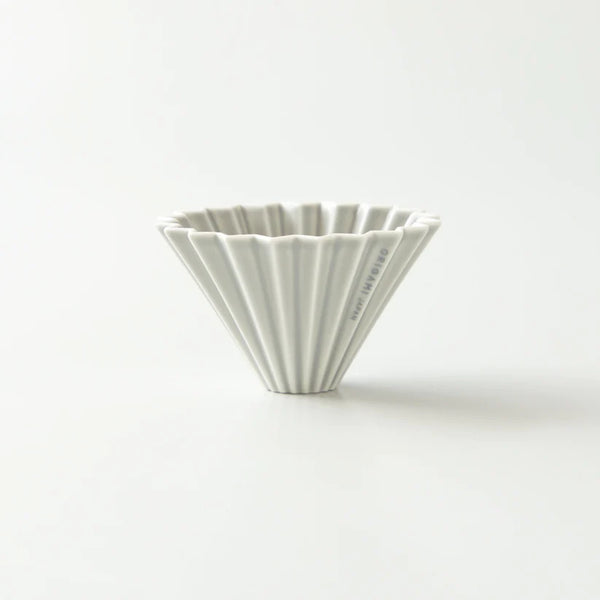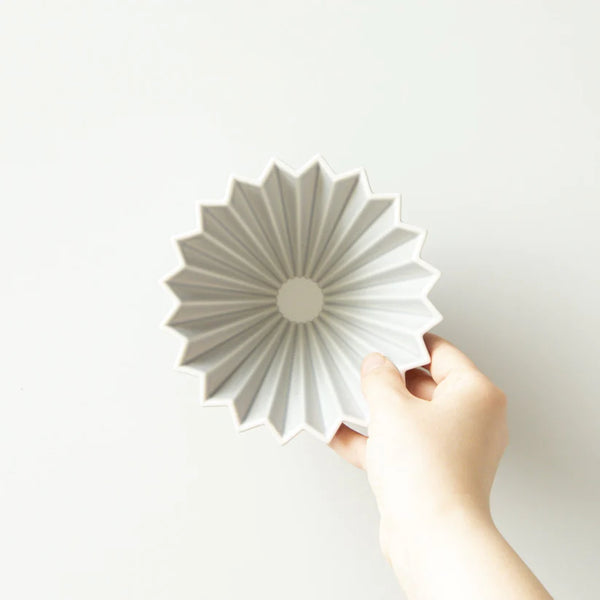 Stockholm Roast
Origami Dripper S Grey
The bright coloring and vertical grooves of this ORIGAMI dripper make it look like a folded ORIGAMI
The 20 ribs (grooves) create a space between the dripper and the paper, allowing hot water to escape smoothly and expressing a variety of brewing styles
The speed can be freely controlled
Dripper's libs to suport extraction
The most distinctive feature of the ORIGAMI dripper is the evenly spaced vertical libs.
Twenty libs calculated to an exquisite depth provide a path for air to pass between the dripper and paper.
This stabilizes the speed at which hot water flows down and supports the ideal extraction as imagined by the barista.

Compatible with two types of paper filters: conical and wave
ORIGAMI's drippers feature the ability to use two types of paper filters: conical (cone) and wave.
The different shapes of paper used will each change the taste of the coffee to be extracted.
When using the wave type, which has a thinner layer of coffee powder, the hot water takes less time to pass through the powder layer, resulting in a more even and stable extraction.
If you use the conical type, which has a thicker layer of coffee powder than the wave type, there will be a difference in the extraction state between the upper and lower layers of powder.

The taste of coffee extracted from the same coffee will differ depending on the type of paper filter.
We hope you will enjoy the different tastes of coffee brewed in conical and wave shapes.

Porcelain material suitable for extraction
ORIGAMI's drippers are made of ceramic.

Its high thermal conductivity and heat retention properties make it an ideal material for coffee brewing.