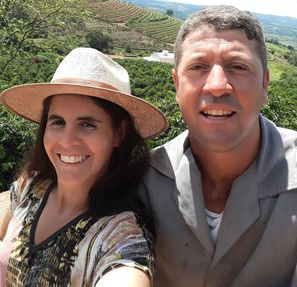 Stockholm Roast
Sitio Seriema Brazil
Cup Profile: Chocolaty, Nutty, well balanced and smooth with a clean silky finish.
Farm – Sitio Seriema
Owner – Ivan & Rose dos Santos
Altitude – 1200 - 1350 masl
Region – Caconde, SP, Brazil
Process – Natural
Variety – Red Bourbon

The dos Santos family have set their roots in the mountain of Caconde, producing coffee for over 40 years now. The region is truly blessed – with natural water springs at the top of the mountain sustaining the beautiful area that we have been lucky to visit a couple of times. You will be enjoying one of Ivan and Roses best lots this season: clean, full bodied flavours of belgian chocolate, pecan pie, vanilla, currants and sticky dates. This cup is balanced and smooth.
Ivan is the youngest brother of Gertrudes and Joao Hamilton dos Santos. The siblings began a partnership with FAF (Fazenda Ambiental Fortaleza) in 2008 to change to sustainable, quality driven coffee farming. Fast forward, a whole region has changed with neighbours collaborating and following best practices.
With his wife Rose from the Jacon family in the neighboring valley, they are set to create their own new coffee tradition.
Respect for the environment is key here, as anyone will notice immediately upon talking to the couple. They are at the top of the mountain where many of the area's natural water springs rise, including those that serve their neighbors and the local town of Caconde.  The responsibility for the protection of these priceless resources is something Ivan and Rose take very seriously.  This is the water that feeds their farm and irrigates the organic vegetable garden that feeds their family too.
They have been a partner with FAF Coffees since 2008 and are now local leaders, bringing in more and more neighbors to produce specialty coffee with sustainability and total quality. Their energy in projects such as building new infrastructure for drying and storing coffee and teaching their neighbors to roast and brew, are turning the coffees coming out of Sitio Siriema and its surroundings into thoroughbreds.
Ivan and Rose, the lovebirds of Sitio Seriema, have married much more than each other, they are bringing the story of the mountain, written by their families over the past 3 generations into the future. 
---